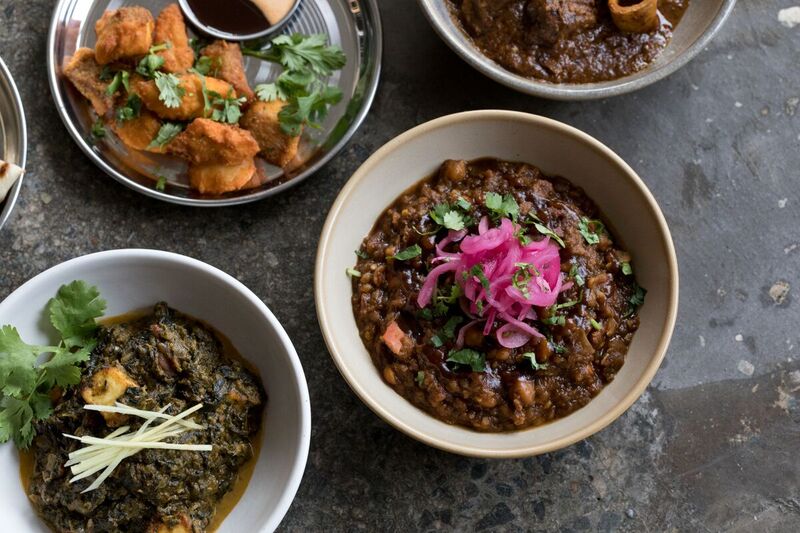 Bollywood, Biggie, & butter chicken.
Downtown LA RESERVATIONS
108 W. 2nd Street, Downtown Los Angeles | (213) 221 - 7466
FAIRFAX RESERVATIONS
418 N. Fairfax Avenue, Hollywood | (213) 281-5185
ONE dad. Two brothers. All love.
This is what happens when you hail from India and Canada.
The Menu
Eat like you're Indian.
Crispy Yogurt Puffs (dahi poori)
crispy semolina 'poori' stuffed with chickpeas, whipped yogurt, tamarind & mint chutnies
Chickpea & Chips (papri chaat)
masala chickpeas on crisp flour chips, topped with sweet yogurt, tamarind & mint chutnies
Punjabi Fish-Fry (machhi amritsari)
flaky catfish fried crisp in chickpea batter spiced with carom seed, paprika & dried mango dust
Indian Pickles (gharwalla achaar)
seasonal veggies pickled in house with indian spices & aromatics
The Traditional
potato & sweet peas with coriander seeds, roasted cumin & ginger
Butter Chicken
the most popular punjabi curry in deep fried-awesomeness
Lamb Chops "Chaampey"
lightly massaged with cardamom & clove masala - served with a fenugreek cream sauce
#HotSpicyIndianSausage (Seekh Kabaab)
free-range & hormone-free lamb ground & spiced with chilies, ginger, garlic, onion, cilantro & mint - served with a fenugreek cream sauce
Badass Chicken Tikka
traditional "dhaba style" preparation with yogurt ginger, dried fenugreek & mustard oil
Broccoli Tandoori
poached with cinnamon & coriander, then charred in the tandoor - with spicy-sweet vinaigrette
Dad's Famous Coconut Curry Mussels
pound of saltspring island mussels steamed 'madrasi' style in coconut milk & white wine, paprika, turmeric, plum tomato, onion & cilantro, finished with lime
South Indian "Fish Moilee"
barramundi seared crisp on the skin, served with a coconut 'moilee curry', spiced with curry leaves, mustard seeds, serrano chili, onion & garlic
Badmaash Fried Chicken
spice-battered chicken double-fried & dusted with paprika masala - served with serrano-cream sauce
Chicken Tikka Poutine
canadian eh!? masala fries topped with cheese curds, doused in piping hot beef gravy, all topped with tandoori chicken tikka & cilantro
Bone-In Beef Short Rib
grass-fed & hormone-free, cooked 'slow & low' in a curry of caramelized onion, turmeric, cumin & red wine
Spiced Lamb Burger
free-range & hormone-free lamb legs ground & spiced in house - with onion, lettuce, tomato, cilantro & paprika spiced mayo, all on Breadbar brioche
Spiced Mango Pork Belly
slow cooked in its own juices with aromatics & spices, seared to finish with spiced mango sauce
Chili Cheese Naan 2.0
our naan dough stuffed with strong white cheddar, serrano chilies & cilantro - cooked in the tandoor
Masala Potato Fries
with parpika spiced mayo
Butter Chicken (murgh makhani)
indian wedding classic; 48-hour marinade of yogurt & spices, charred in the tandoor then finished in a creamy tomato curry flavored with fenugreek
Chicken Tikka Masala
charred tandoori chicken sauteed with red onion, green & red peppers sauteed in a tomato curry spiced with serrano chilies, fresh ginger & cilantro
Goan Pork Curry
sweet, sour, spicy! pork shoulder slow braised with fenugreek seeds, jaggery & fresh tamarind
Ghost Chili Lamb Vindaloo
SPICY!! - juicy lamb & potato slow braised in a spicy curry of 'bhoot jolokia', serrano & red chilies
Good Ol' Saag Paneer
mom's recipe of baby spinach sautéed with tomato, onion, 'garam masala' & indian paneer cheese
Homestyle Punjabi 'Sabzi'
market vegetables cooked with homemade spice mixes & masalas - ask your server
Punjabi Chickpeas (channa masala)
garbanzo beans, tomato & onion - stewed in warm spices & aromatics - topped with pickled onion
Creamy Black Lentils (daal makhani)
24-hour slow cook; black lentils & kidney beans with ginger, garlic, plum tomato & butter
Indian Condiments, Fresh Breads & Sides
5 Pepper Hot Sauce - "Boss Sauce"
"OG" Masala Onions & Chilies
Spiced Lamb Burger
all natural & free range lamb butchered & ground in house daily, spiced with chilies, mint & cilantro - on Breadbar brioche - onion, lettuce, tomato & paprika mayo - served with cumin-coleslaw
BADMAASH Fried Chicken Sammich
juicy marinated chicken in a spiced batter, double fried crisp & dipped in a smokey butter chicken sauce - served on a grocery-store-bun with pickles & iceberg lettuce - served with cumin-coleslaw
Badmaash Fish & Chips
flaky catfish fired to a crisp in a chickpea batter seasoned with carom seed, paprika & dried mango dust - served with masala potato fires & spiced mayo
Ghost Chili Lamb Vindaloo
SPICY!! juicy lamb & potato slow braised in a spicy curry of 'bhoot jolokia', serrano & red chilies
Goan Pork Curry
sweet, sour, spicy! pork shoulder slow braised with fenugreek seeds, jaggery & fresh tamarind
Chicken Tikka Masala
charred tandoori chicken sauteed with a red onion, green and red peppers, sauteed in a tomato curry spiced with serrano chilies, fresh ginger & cilantro
Butter Chicken (murgh makhani)
indian wedding classic; 48-hour marinade of yogurt & spices, charred in the tandoor then finished in a creamy tomato curry flavored with fenugreek
Good Ol' Saag Paneer
mom's recipe of baby spinach sauteed with tomato, onion, 'garam masala' & indian paneer cheese
Punjabi Chickpeas (channa masala)
garbanzo beans, tomato & onion - stewed in warm spices & aromatics - topped with pickled onion
Railway Masala Omelet
indian style omelet with onions, tomato, cilantro, turmeric & serrano chili - served with 'pao' bun
Pork Belly Hash
with peppers, onions, tomatoes & crispy potatoes - topped with a sunny-side egg
Bombay Grilled Cheese
spicy grilled cheese sandwich with aged cheddar, serrano chilies, onions & cilantro
Glera, Contessa, Veneto, Italy
Lambrusco, Pronto, Emilia-Romagna, Italy
Gamay, Renadart-Frâche, Bugey, France
White Blend, Knauss, Württemberg, Germany
Sauvignon Blanc, Populis, California, USA
Arinto, Monte Cascas, Minho, Portugal
Riesling, Ress, Rheingau, Germany
Tempranillo, Finca Torremilanos, Ribera Del Duero, Spain
Blaufranker, Pfneisl, Burgenland, Austria {1L}
Shiraz, Beelgara, New South Wales, Australia
Zinfandel, Sans V.D.C., California, USA
Cabernet Franc, Bobinet, Loire Valley, France
Kingfisher Indian Lager
since 1857 - "the finest malted barley and hops" (12oz. bottle)
El Gose German Sour with Lime & Salt
4.5ABV Avery Brewing, CA (12oz. can)
Orange-Cranberry Radler
4.05ABV Boulevard Brewing Co, MO (12oz. can)
Fruitlands Seasonal Fruit Sour
4.8ABV Modern Times Brewery, CA (22oz.)
Mana Wheat Pineapple-Wheat Beer
5.5ABV Maui Brewing, HI (12oz. can)
White Rascal Belgian Style White Ale
5.6ABV Avery Brewing, CA (12oz. can)
Samurai Rice Ale
5.5ABV Great Divide Brewing Co, CO (12oz. can)
Pick Six Pilsner
5.2 ABV Pizza Port Brewing, CA (16oz. can)
Drake's 1500 Pale Ale
5.5ABV Drakes Brewing, CA (12oz.)
Lil Devil Belgian Pale Ale
5.75ABV AleSmith Brewery, CA (12oz. can)
Stone IPA
6.9ABV Stone Brewing, CA (12oz.)
Modus Mandarina IPA
6.8ABV Ska Brewing, CO (12oz. can)
Raja Double IPA
8.0ABV Avery Brewing, CA (12oz. can)
Wolf Among Weeds Double IPA
8.0ABV Golden Road Breqing, CA (16oz. can)
Colette Farmhouse Saison
7.3ABV Great Divide Brewing Co, CO (12oz. can)